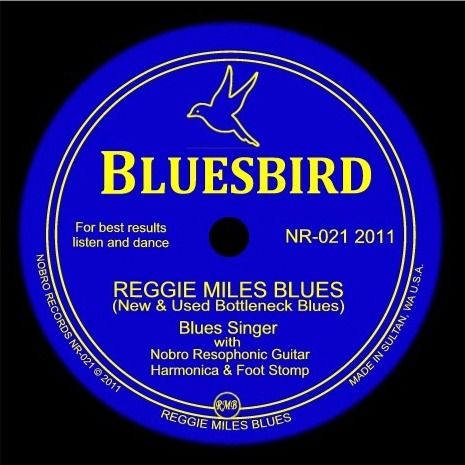 "An absolute full bodied, dig down deep vocal and guitar..."
"Miles growls, but the diction is solid and clear. The recording is clean. Miles' hesitations and pulse are a marvel and a trademark that distinguishes his work above most solo blues practitioners in the country."
"Hands Full Of Blues" he makes the overwhelming feeling something that reaches into your gut. You can see those blue notes fall off Reggie Miles' hands."
"The double meaning "Makin' Bacon" is a hoot..."
"Big Joe Williams' "Baby Please Don't Go," Miles takes this real slow, more like a field holler with his creative slide voicing. One of the most original interpretations of this classic blues gem. Shows a whole new side to this song."
"On another Big Joe Williams hit, "Highway 51 Blues," he opens with a train rhythm on guitar and then joined by Sonny Terry-like harmonica building the lonely whistle highway call. Then the slide guitar begins to jump onboard. Miles begins his singing, almost talking, and then the gutsy gravel, always with clear diction and control of the lyric."
"Everyone has a great laugh with Miles' "It's The Slide Of Your Size" as he struts, walks almost arrogantly... Classic Miles having fun, but oh so musically."
"This generous fifty four minutes of music was recorded live. Miles' very large persona does come through on recording much like it does on stage. He is a commensurate entertainer and skilled craftsman, particularly in the blues guitar, singing and harmonica that is delivered here live. For Blues lovers, it just doesn't get much better than this collection."
Chris Lunn Ancient Victorys News Volume 5, Issue3 - Fall 2012