Dazie Mae
Contribute to Dazie Mae's next album on Ulule.com!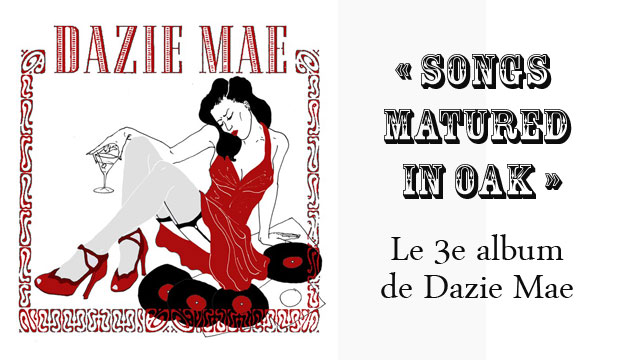 --------------------------
Members
Chant : Jeanne
After 5 years as leader of the famous « Flying Cheddars Lovers », a kind of « trash ballroom dancing band" specialized in covering Gregorian sacred songs, Jeanne has now decided to stop the booze !
Piano/Mélodica : Mathias
Mat's childhood took place in a little African village in south Botswana , where he was initiated to sacred dancings and musical habits of Congalaabawanaa. He's never been quite the same ever since.
Guitare : Tom
Tom met one day Pat Metheny after a gig in Nancy (east of France). He immediatly kicked the guy's face to steal his guitar. In fact he never leaves it alone, even taking it under the shower, which explain the weird sounds...
Basse : Serge
After being explelled from England for setting fire to a pub where some band were playing live using a "dreaded" drum machine, he writes his first album with around 54 post punk songs, all written in 4 days.
A short history of Dazie Mae
Why do we call ourselves DM ?
Of course, the famous Blues song from Johnny Lee Hooker. But also, with a slight different spelling, it is the "femme fatale" hero of the famous comic by Li'l Abner from the forties and fifties. And indication of how retro we are...
A musical genre ?
Well that's a hard one! Just about a mix of everything (rolk, blues, jazz & bossa) At first that was mainly covers from anglo-saxon folk/rock from the 60/70. Then some original materials came along. In 2008, the band took a new turn towards "unexpected" arrangements of pop standarts. Played live in Paris in the spring of 2008.
We are now actively working on new original materials, songs with a center theme, the imaginary life of DM.
If you have been a reader of the famous comic strip, have old copies, know more about the story of DM, please write to us. We would like to know about her life, write more about the kind of women she was. Was Lou Reed right about her smelly feet???
----------------------------------------
Les membres du groupe
Chant : Jeanne
Après 5 années passées comme leadeuse des Flying Cheddars Lovers, un groupe de trash musette spécialisé dans les reprises de chants grégoriens, Jeanne a décidé d'arrêter le whisky.
Piano/Mélodica : Mathias
Mathias a vécu son enfance dans un village au sud du Botswana où il a été initié, malgré lui, à la danse sacrée du suricate et au rite musical du Congalaabawanaa. Il n'est plus tout à fait le même depuis.
Guitare : Tom
Tom a croisé un jour Pat Metheny à la sortie d'un concert à Nancy : il lui a immédiatement cassé la gueule pour lui voler sa guitare. Il ne s'en sépare jamais, même sous la douche, ce qui explique le son très particulier de ses solos.
Basse : Serge
Après avoir été expulsé d'Angleterre pour avoir mis le feu à un bar où se produisait un type avec une boîte à rythmes, il compose un premier album autour de 54 chansonnettes postpunk, écrites en quatre jours.
Un petit historique de Dazie Mae, le pourquoi du comment et tout ça
Pourquoi nous appelons-nous Dazie Mae ?
A cause de la chanson éponyme de John Lee Hooker. Et aussi parce que Daisy Mae (orthographe un peu différente) est une héroïne de comics américain des années 50, créée par Li'l Abner. C'est dire si on est rétro.
Quand le groupe a-t-il été fondé ?
En 2003. Après quelques expériences peu concluantes de reprises des Beatles dans des ambiances gothico-électroniques, Jeanne et Mathias ont eu l'idée folle de transformer leur duo en trio. L'arrivée d'Antoine à la guitare a pour effet immédiat d'augmenter considérablement la proportion de reprises de Bob Dylan. Quelques mois plus tard, le groupe s'étoffe d'un bassiste, Hervé, avec lequel Dazie Mae prépare ses premiers concerts, chez Adel en septembre 2004 puis chez Pascaline l'année suivante. Lassé d'essayer de faire comprendre l'importance du rythme aux autres membres du groupe, Hervé propose d'adjoindre un cinquième larron : c'est au tour de David, batteur de son état, de subir les répétitions en boucle de Dylan et des Kinks. Mathias ayant été enlevé par des extraterrestres pendant plusieurs mois, le groupe doit continuer à 4 (les occasions de se débarrasser d'un joueur de synthé sont toujours bonnes à saisir), formation avec laquelle il donne un concert historique place de la République, pour la Fête de la Musique en 2005, devant une foule en délire de près 2000 personnes (50 selon la police). Suit alors une période un peu trouble pendant laquelle le groupe est bouleversé par les départs successifs (et l'élection de Benoît XVI) du bassiste puis du guitariste. Fort heureusement, Miss Jeanne jamais à court d'idées ni de cheveux remplace au pied levé le bassiste par Thomas. Mais quelques mois plus tard, Dazie Mae est au point mort. Sent-on venir la fin ? Réchappé de sa prison vénusienne, Mathias est de retour dans les parages. Avec Jeanne, ils décident de réactiver la machine à succès qu'a été Dazie Mae dans sa jeunesse. Ils rappellent Thomas, qui passe à la guitare, et recrutent Serge pour tenir la basse, le rythme, et la bonne prononciation de l'anglais. Et nous voilà arrivés à l'actuelle formation de Dazie Mae !
Quel est notre genre musical ?
Vraiment, c'est difficile à dire. Un mélange de rock, folk, blues, jazz, bossa... Nous avons commencé en faisant presque uniquement des reprises de morceaux rock/folk anglosaxon des années 60/70. Puis en ajoutant quelques compositions dans le même esprit. En 2008, nous avons décidé d'ajouter un côté "décalé" aux reprises et d'élargir le répertoire-source. En ce moment et pour 2009, nous répétons un nouveau set formé cette fois-ci, pour l'essentiel, de compositions. On va pouvoir se la péter grave.
Comments (
0

)